Are you searching for the most effective and safe water purification method? With the increasing contamination of natural water, it is a very wise approach to take. Your life, as well as that of your family, is extremely essential. Water purification systems for the home are available on the market today in a wide range of configurations. Although water ionisers are less frequent, it's not unusual for people to mistake them with filters. Not everyone understands the differences between a water ionisation device and a water filter system.

Usually, people are more accustomed to knowing about the more common water filters, which have been used for longer than ionizers have. These water filters or purifiers, however, do not necessarily result in alkaline water. The benefits of drinking alkaline water have been highlighted very frequently now due to the increased presence of ionizers in households.

Therefore, what is the difference between water ionizers and regular purifiers, and which should you be using for a safer and healthier glass of water? We will explore these two different pieces of equipment, and check for merits for both.

What is a Water Ionizer?
A water ionizer is a machine, which as its name suggests, can ionize an incoming stream of water. This means that it can raise the pH level of the water, making it alkaline. The incoming water is filtered into two parts or two outlets, one that is alkaline water, and one that is slightly acidic in nature. The reason behind doing this is to provide a single origin point for all water-related activities.

The Alkaline water can be consumed, while the acidic water can be used for other activities, such as washing and cleaning. This machine uses the process of electrolysis to separate hydrogen and oxygen, and these determine the acidity or the alkalinity of the water.

Water that gets siphoned off from the cathode contains more hydrogen content and is therefore alkaline in nature. Whereas water that gets siphoned off the anode has greater oxygen content and thereby is acidic in nature.

Water ionizers can allow the user to choose the pH level of the water that is produced, whether acidic or alkaline. This customization component certainly makes this a very lucrative item, since the user can drink the exact pH level water that is recommended for him/her. In addition to this, the machine also performs other functions of a water purifier, by removing all impurities and actively improving the taste of the water.

What is an RO System?
Regular purifiers are known as RO systems, since their mechanism of purifying water involves the process of reverse osmosis. This process uses the principle of filtration through thin, semi-permeable membrane-like structures that can filter most impurities and microorganisms. This way, no chemicals are added or split from the water. The process works against the principle of osmosis, where water travels from a lower to a higher concentration, hence its name.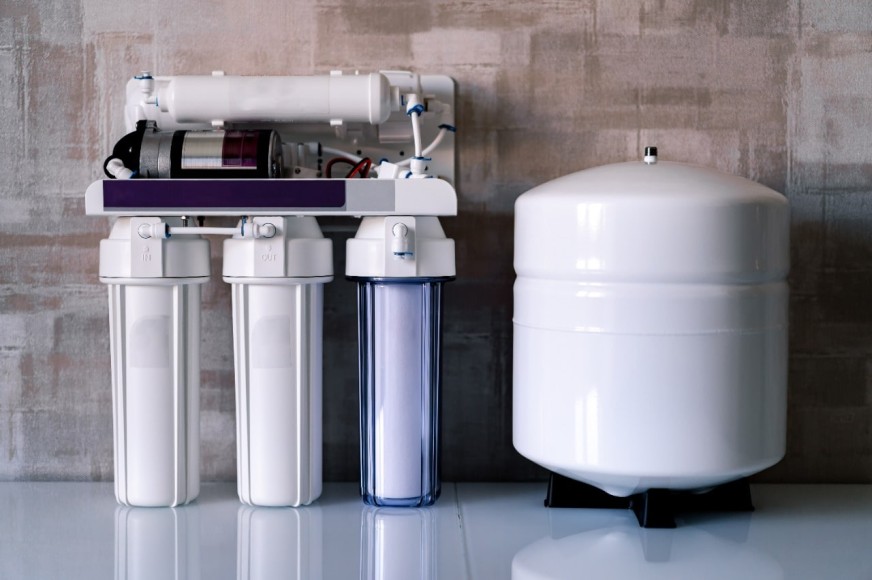 Regular purifiers that use reverse osmosis cannot by any means change the pH of the water that passes through it. Water obtained through these is usually neutral, neither acidic nor alkaline.

Running a Compare on both systems:
Now that we have explained the features of both the systems, it is important to compare them against some common parameters, such as:

• Cost:
Arguably, ionizers are far more expensive than RO systems, because of the wide range of applications that it can provide. It essentially provides all features of RO, and can alter the pH level of the water as the user wants. This feature makes it expensive, but it is widely considered to be a better investment.
In addition, maintenance and upkeep costs are similar for both.

• Purification:
Both systems can purify water and make it suitable for drinking. However, an ionizer can purify it to a far greater value than a regular RO system. Some ionizers even come with UV technology which can eliminate all bacteria, something that RO systems do not have.

• Benefits of drinking water:
As mentioned, an ionizer essentially generates water that is far healthier. This does not mean that RO water is unhealthy, it just has a more balanced pH. Drinking RO water for a prolonged period of time can deprive the body of certain minerals that can easily be found in alkaline water.

The Bottom Line:
As is evident, both systems have their merits. The main disadvantage of both is that a significant amount of water can be wasted during the process, but in order to get clean drinking water, this has to be compromise. On a scale, an ionizer is probably a better investment, considering that it has a host of additional health benefits which can probably make the user spend less on medical bills.